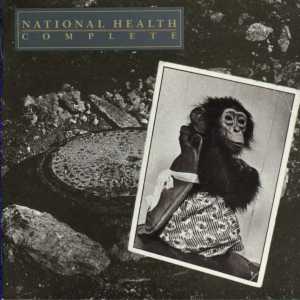 NATIONAL HEALTH
Complete
1978-1982 UK
CD: 1990

Phil Miller (guitar)
Alan Gowen (moog, electric & acoustic piano)
Neil Murray (bass)
John Mitchell (percussion, temple blocks, guava, congas)
Amanda Parsons (vocals)
Jimmy Hastings (flute, clarinets, bass clarinet)
John Greaves (bass, piano innards)
Georgie Born (cellos)
Paul Nieman (trombones)
Phil Minton (trumpet)
Selwyn Baptiste (steel drums)
Keith Thompson (oboe)
Peter Blegvad (voice)
Rick Biddulph (bass, organ)
Ted Emmett (trumpet)
Annie Whitehead (trombone)
Barbara Gaskin (backing vocals)
Elton Dean (saxello)
Richard Sinclair (vocals)
Dave Stewart (organ, electric & acoustic piano, clavinet, minimoog)
Pip Pyle (drums, percussion, handclaps, cowbell, glockenspiel, finger cymbals, shaker, bells, pixiephone, tambourine & gong)

A double-cd release containing all their three albums, National Health (1977), Of Queues And Cures (1978) and D.S. al Coda (1982). An offshoot of the 'Canterbury' scene, this is jazz-oriented progressive rock at its finest.